I am currently working on our order for bare root fruit trees for next year. Click here to view a copy of our list (pdf) of what we carried this year. Next year will be similar offerings with a few changes yet to be determined. The prices were for the 2014 season and may change for next year. THIS IS NOT OUR LIST FOR 2015. Our prices and varieties for 2015 are yet to be determined.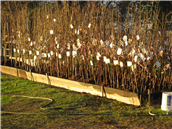 SPECIAL ORDERS
If there are specific types of fruit trees you may want that we did not carry, you can special order them in small quantities from Dave Wilson Nursery's variety list. Click here to view a special order form (pdf) with the prices that would apply to special ordered items that we do not carry.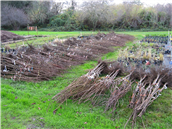 If you are interested, please look over our list from last year and then look at the special order price list. You can order anything off the special order list AT THE PRICE ON THE LIST. We must have a 50% non refundable deposit on any special order items we do not normally carry before we can order it. If for some reason we cannot get the item the deposit will be refunded. If you change your mind after you have ordered, we cannot refund the deposit. The deadline for any special orders we do not normally carry is October 30th so that we can submit the orders before the November 12th deadline with Dave Wilson Nursery.