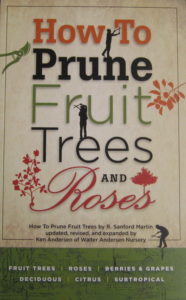 FREE FRUIT TREE PRUNING CLASSES THIS SUNDAY JANUARY 21st AND NEXT SATURDAY AND SUNDAY THE 27TH AND 28TH AT 10 AM EACH DAY. ATTEND ONE OR ATTEND ALL. WE WILL HAVE SOME FREE GIVE AWAY'S FROM THE SUPPLIER OF OUR BARE ROOT FRUIT TREES.
LEARN HOW TO PRUNE YOUR FRUIT TREES. WE WILL HOLD THE CLASSES IN OUR ORCHARD HERE AT THE NURSERY.
NO REGISTRATION NECCESSARY. JUST SHOW UP.
FREE COFFEE, TEA, AND HOT CHOCOLATE DURING THE CLASS AND BARE ROOT SEASON. We will also cover rose pruning and dormant spraying and answer any questions you may have.
Bare Root season continues through the end of February. Great selection of bare root fruit trees and roses and shade trees. Blueberries, Raspberries, Blackberries, Asparagus, Artichokes, and Strawberries all available now as well and onion starter plants and seed potatoes. And of course our full line of shrubs, trees, and plants.
Hours: 9 to 5 Monday through Saturday, 10-4 Sunday.
530-743-4856