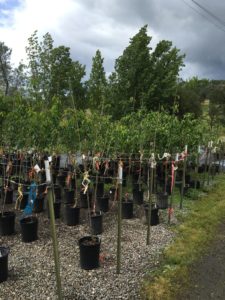 Fruit Trees that were potted in January are now ready for sale. We have an assortment of apples, apricots, cherries, nectarines, peaches and plums rooted and ready for sale. All are in 5 gallon size containers.
We are selling on a first come first serve basis only. Sorry no reservations. Come in early for best selection.
We have another batch of fruit trees that were potted at the end of bare root season that should be ready in a couple of weeks. I will send out an email letting everyone know when they are ready. I will also post it on the Facebook page.