Bare root season is now in full swing. We have our fruit trees in stock now and are selling briskly. Bare root shade trees will be in within a couple of weeks and a few more miscellaneous fruit trees. Blueberries, cane berries, figs, and pomegranates in pots are in as well.
Most standard sized fruit trees and semi-dwarf fruit trees are $25.00. There are exceptions. Complete price lists for bare root fruit trees and bare root shade trees are available at the nursery or via email by request.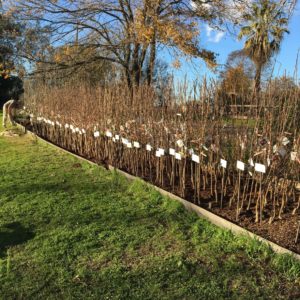 Bare root season goes now through the end of February. The selection of fruit trees is very large, but don't wait till the end of the season to shop. Once a variety is sold out, it is gone until next year's bare root season. At the end of February, the trees that are left, which should be few, are potted up and sold later in the year and the price is higher after we pot them.
We also still have our full regular inventory for whatever you might need.Bare root roses are now available as well.
We have a large selection of roses to choose from. We sell them bare root until the end of February and after that they are sold only in pots.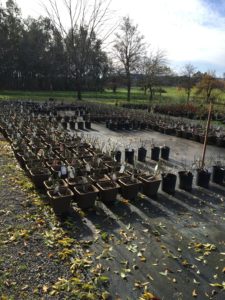 Roses are $18.00 bare root or $22.00 in pots.
36″ Tree Roses are $45.00 each, staked and in pots.
24″ Tree Roses are $31.50 each, staked and in pots.
36″ Twofer Tree Roses $49.00 (Two varieties on one trunk)
Again, complete list is available via email or can be picked up at the nursery.
It's time for the second dormant spraying on your fruit trees if you have not done it already. Use copper mixed with horticultural oil or Neem oil and spray the entire tree including the trunk. If you have not done any spraying yet, get one done now and wait a couple of weeks and do the second and then the third and final spraying should be done in February just before bud break. I spray all trees in the orchard to help kill overwintering insects and to help prevent diseases such as leaf curl and fireblight. It helps to reduce aphid problems in the spring as well.
Onion Plants Will be Arriving the second week of January
We will have the following:
Candy (Yellow Globe Shape, Sweet, Hybrid)
Red Candy Apple (Deep Red, Flat Globe Shape, Sweet, Hybrid)
Walla Walla (Yellow, Semi Flat Shape, Sweet)
Yellow Spanish (Globe Shape, Mild)
Red Wing (Red, Globe Shape, Slightly Pungent)
Red Torpedo Tropea (Red, Torpedo Shape, Sweet)
Onions are $5.50 per bunch. There are 50-75 plants per bunch.
We will be having our fruit tree pruning classes later this month.
Fruit Tree Pruning Class Dates
January 18th and 19th @ 10am
January 25th @ 10 am
February 1st @10 am
All classes are free of charge. No reservation is necessary. Free coffee and hot chocolate is available at the classes.
I will demonstrate pruning of fruit trees and also will demonstrate the pruning of roses for the late winter early spring season. The demonstration usually lasts about an hour or so and I will answer any questions you may have. If we have rain on any of the dates, we will reschedule since we have them here at the nursery orchard and prune the trees in the orchard.
We hope to see you soon for your bare root or other planting needs and at one or more of the fruit tree pruning classes.
Jeff